Karl Lagerfeld has done it yet again, each runway seems to top the last, with his latest production being my absolute favourite to date... Welcome to, the Chanel Supermarket; Lagerfeld created in sheer dimensions, a life size supermarket stocked and stacked with Chanel inspired goods such as Chanel teas (Little Black Tea), Cheese stalls, Coconuts (Lait de 'Coco'), mountains of caviar, wines, olive oil and even housewife essentials such as rubber gloves and wait for it...there is even a Chanel Chainsaw. Take that one as you will? I mean imagine if this actually existed, would it or would it not just be the most exclusive grocery store in the world, I mean forget getting your tea at Fortnums, the cashier's would be the most glamorous of employees and well walking down the aisle would be more like walking down the red carpet with it being a star-studded affair! The idea of bumping into Karl in Marks and Spencer's is too foreign to imagine, he must have Nobu on speed dial...
Whilst the latest AW ready-to-wear trends made their debut down the 'aisles' it remained clear that Lagerfeld was maintaining his youthful and more urban approach to the styles of the future and the present. The concept showcased within the colossal interior of Paris's Grand Palais by Chanel suggests that urban, fashion-forward model, Cara Delevigne is influencing fashion mastermind, Karl Lagerfeld to start entertaining a much younger audience, such as the 21 year old herself. As Karl lures to turn around Chanel's image, in some light it portrays a fanciful yet absurd future where the 'Chanel Woman' is more youthful and whilst I don't think we will be seeing Trucker/Flat caps take to the Catwalk any time soon, we can see that as times are changing, the younger generation are becoming a huge part in boosting the sales of the most non-chalant and timeless Parisian brand in the world. Karl Lagerfeld left us unaware of what is to come in the future for Chanel, but as always Karl ensured that the iconic Chanel suit made its righteous appearance in a beautiful bubblegum pink and white tweed mix. Other tweed garments boasted a mixture of coloured threads with pink, green, yellow and brown seemingly being the most prominent colours on the catwalk.
Who wants a pair of Chanel Trainers...I do!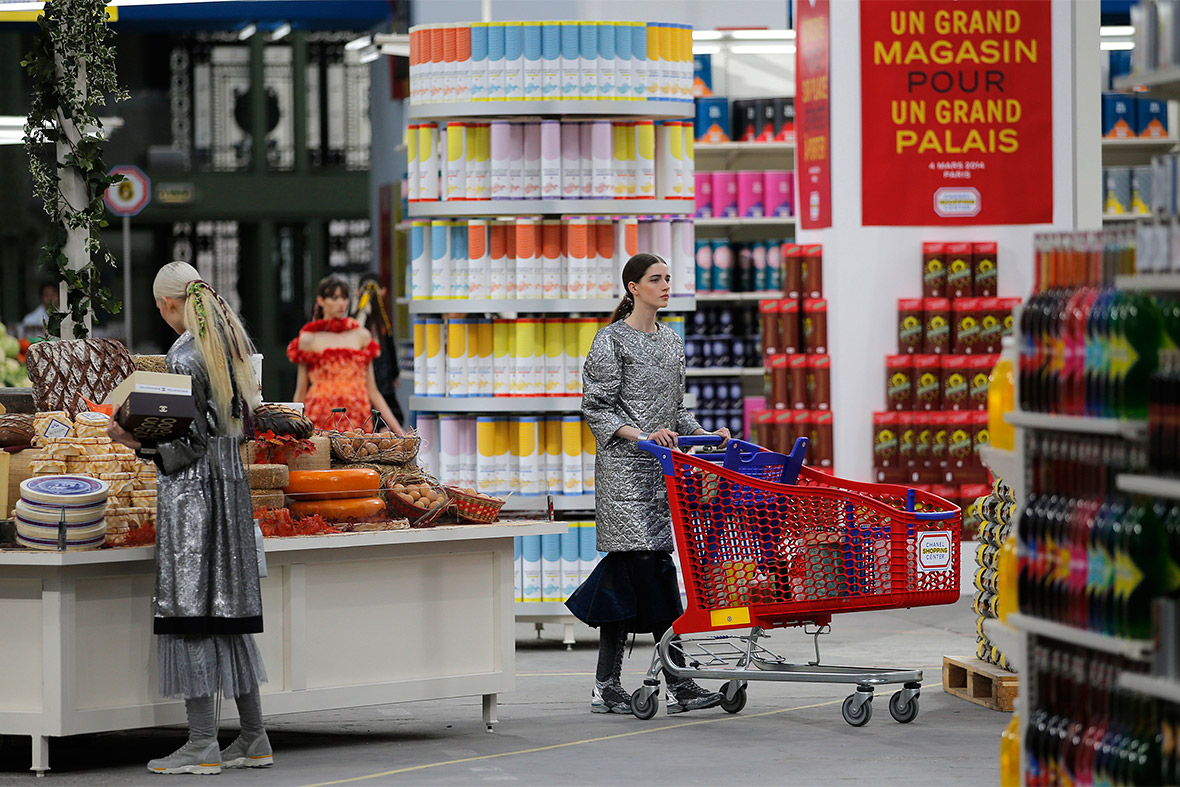 c/o ibtimes
This isn't the first time that Lagerfeld has incorporated food into his visions:
"FASHION IS THE HEALTHIEST MOTIVATION FOR LOSING WEIGHT"
- KARL LAGERFELD
(All photo's are c/o Elle.com)