Bomber Jacket. Check. ✔️ Hair Scrunchie. Check. ✔️ Frilly Socks. Check... ✔️ This is starting to sound like a 'What to pack' list for visiting an American High school for the day, but fortunately it's not. Whilst I am aware that the 'Varsity' trend was 'so AW13', I am also aware that the Bomber Jacket is the statement piece this season and well, they both merge into one trend to be honest! Many often comment on my 'back to school' style, and whilst Blair Waldorf can be an inspiration to many, this 'look' stretches far further than a shirt, skirt and bow combo. In this look I wanted to rein in that varsity style, in an American High school Cheerleader meets Shoreditch kinda way.
I absolutely love, l.o.v.e, LOVE this denim wash shift dress, from Topshop; whilst it may not be the most flattering fit, it can be carried off in an effortlessly cool and casual way. It sort of says...I really don't give a f*** without looking like you haven't showered in days. Unfortunately, I cannot take credit for this piece, as it was in fact borrowed (if not stolen.....) from my fellow doll, Claudia. When wearing this denim dress, I always throw in a pair of Topshop's Frilly Socks (obviously). From dusty pink, to baby blue, to black and white, to orange... I have it all, every single colour combination and trust me, I find ways to fit them into my outfits! I LOVE frilly socks with shoes! In this look I went for white frilly socks paired with black Mary-Jane's; due to the outfit being rather colourful, I felt the need to keep it plain and simple on the sock/shoe front. To complete the dress, I added a collar, of course - my most adorned collar being the Peter Pan collar, which mainly comes in the form of a lightweight, American Apparel, cropped shirt which slips under pretty much EVERYTHING.
THE BOMBER JACKET: This seasons must-have item. Mine? Has a 'B' on it obviously and is from Topshop. I got mine last year unfortunately, however I recently bought one similar (also with a 'B' on it) from Forever 21 and can confirm that Topshop are currently stocking some similar due to the highstreet being swarmed with bomber jackets right now. I see Varsity Jackets as an investment as they do come in and out of fashion fairly often. My most wanted bomber is from Opening Ceremony...except due to it being a bank-breaker I haven't been obliged to buy it YET. To top it off, I wore my hair 1/2 up with a velvety maroon hair scrunchie paired with retro-style aviator sunglasses in cream. Where my Pom Poms at?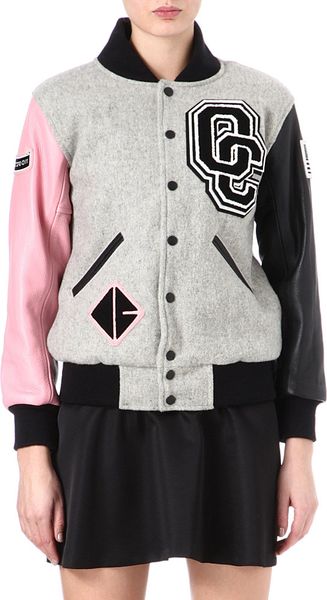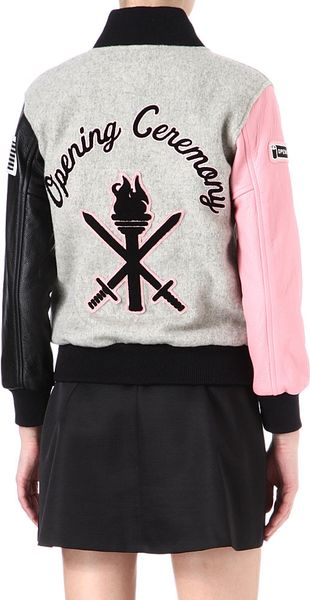 Denim Wash Shift Dress - Topshop
Cropped Sleeveless Shirt - American Apparel
Varsity Bomber Jacket - Topshop
Bea {x}